WEBICS PALM
Easy, Simple, Fast, Safe and Perfect Biometric control Device, WEBICS Palm
WEBICS Palm is an access control solution that solves the security, functionality, and user flexibility that existing biometric security systems couldn't have solved.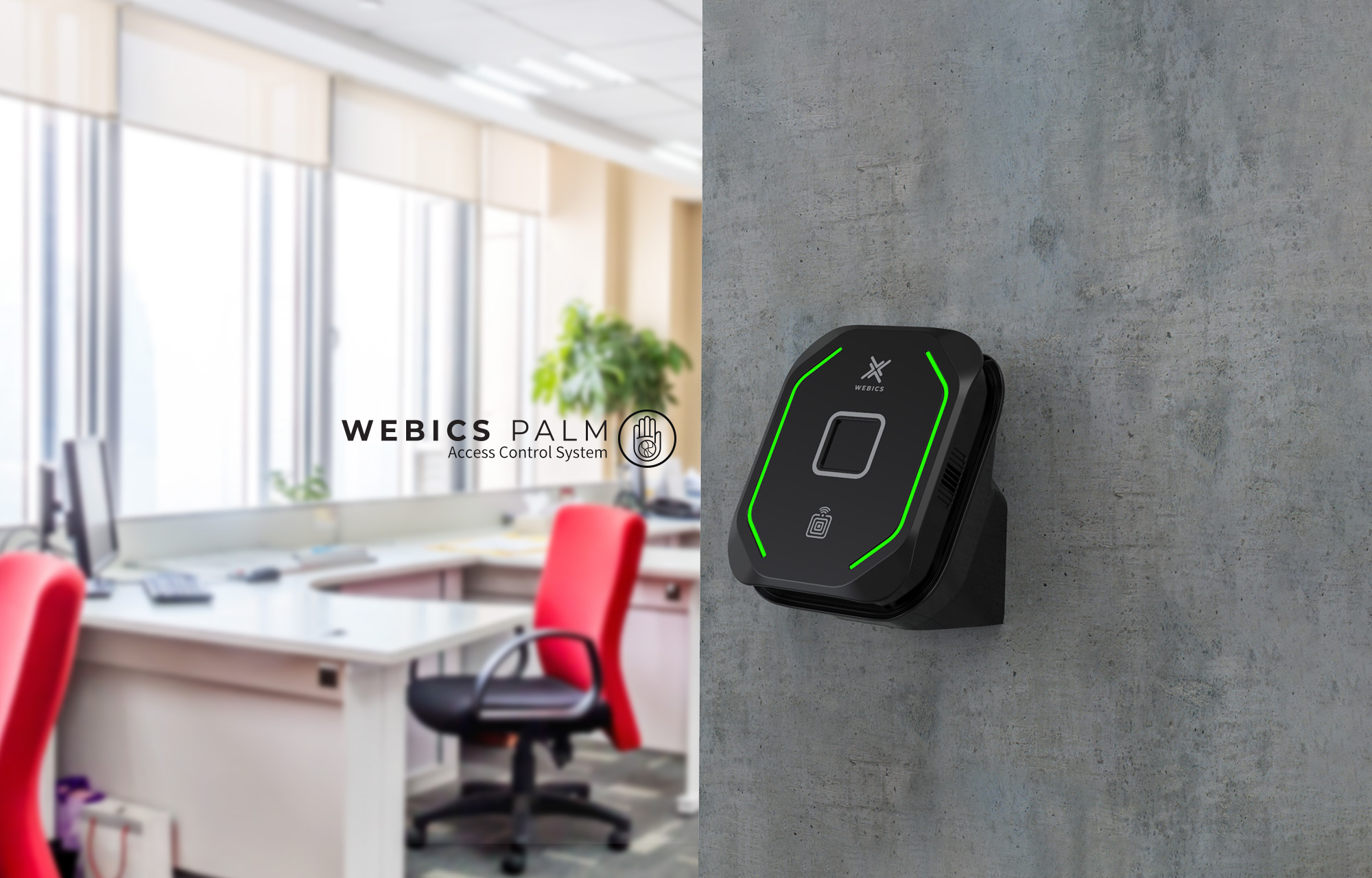 Key Features
· WEBICS PALM is a perfect and safe access authentication device using palm vein recognition and RFID card recognition.
· The highest performance security system using the palm vein, the most advanced biometric technology.
· The best palm vein recognition technology is applied to the WEBICS security solution to minimize the misidentification rate, and users can easily use it through simple authentication (FAR: 1/1,000,000)
01. STAND ALONE SYSTEM
You can update registered user information in real time by connecting with WEBICS ADMIN, a central control server program. We applied STAND ALONE SYSTEM that can operate the device independently even if there is a problem with the server or the connection is cut off due to a network problem. When the server is reconnected, user log information is automatically transmitted to the server, so there is no loss of log information.
02. Prevention of cross-infection through non-contact
Unlike fingerprint or finger vein authentication, which is a contact biometric authentication method, the palm vein is authenticated in a non-contact manner. Because it is 100% non-contact method, there is no risk of cross infection even when multiple users use it, and fast recognition is possible without any problems even in wet or dry palm conditions. Non-contact biometric authentication not only eliminates the risk of cross-infection, but also uses the palm vein, which enables both children and adults to freely and conveniently use it regardless of the installed location.
03. Optimal angle search for authentication
It was designed by studying the optimal design and angle so that the user's veins can be recognized well when entering and exiting.
04. Fast authentication time
By applying HN Security's unique vein authentication algorithm, fast authentication is possible within 1 second.
05. Intuitive UI
The LED lamps located on the left and right change to different colors according to various situations such as power, authentication, rejection, registration, and security settings, which provide status and intuitive UI.
06. Basic application of RFID reader
It is applicable to all devices connected by physical card and NFC.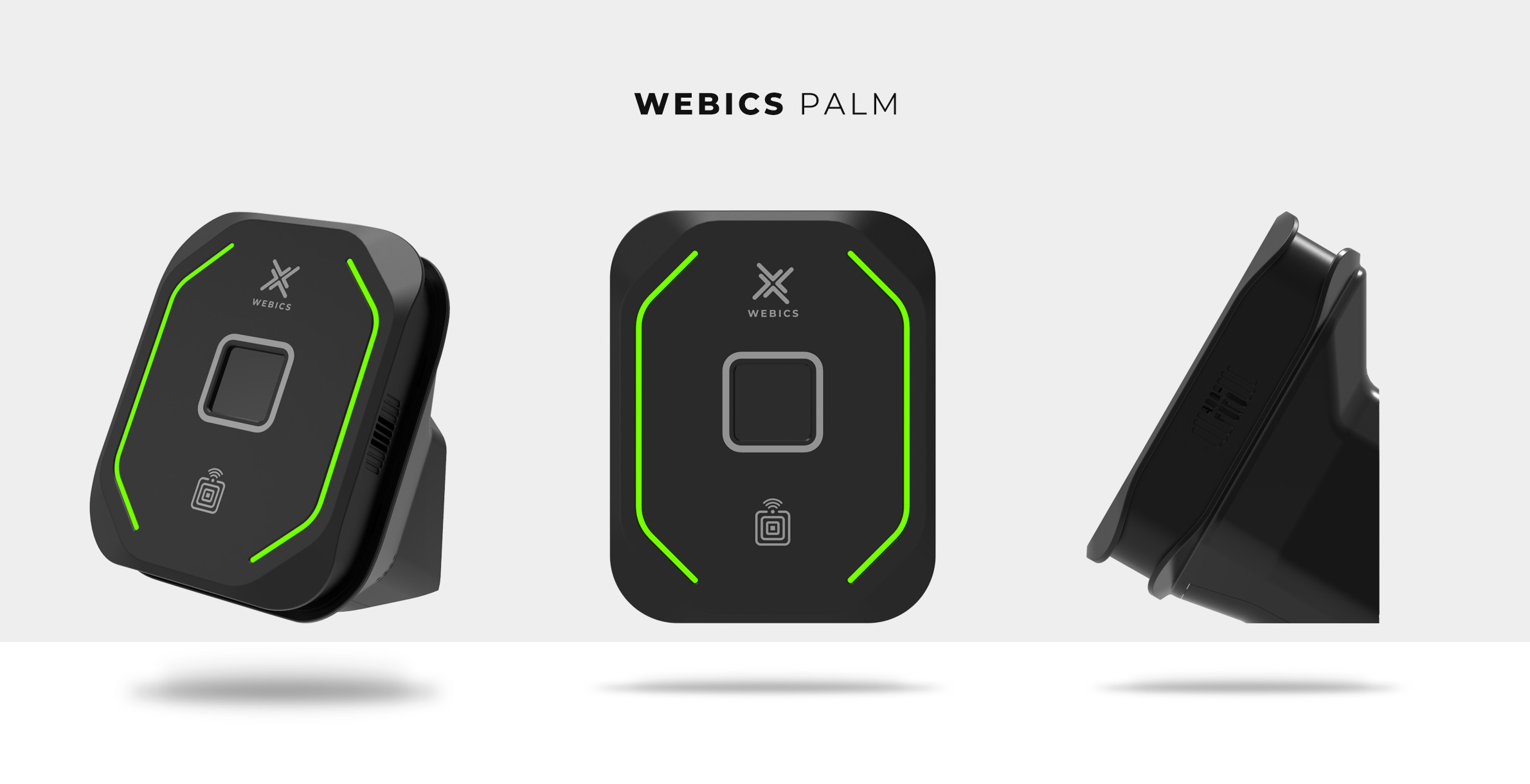 Key Specification
| Model Name | WEBICS Palm | Remark |
| --- | --- | --- |
| CPU | Cortex-A53 64-bit SoC 1.4GHz | |
| RAM | 1GB SDRAM | |
| Color | Black | |
| Operation Mode | Palm Vein and RFID | |
| Biometric Recognitions | Palm Vein | |
| Recognition Distance | 35 ~ 76mm / 1.4 ~ 3.0in | |
| FAR/FRR of Algorithm | 0.00001/0.01 | |
| Capacity | 500 palms | |
| Encryption | AES 256 | |
| Built in RFID reader | RFID 13.56Mhz, ISO14443A/B, NFC | |
| Speak Out | Sound effect | |
| Dimensions | 120(W) x 152(D) x 112(H) / 4.7(W) X 5.9(D) X 4.4(H) | mm/in |
| Weight | 0.6 / 1.3 | kg/lb |
| Communications | 100Mbit Ethernet, Wiegand out | |
| Input / Output | Relay, RS485, Wiegand | |
| Event Log Capacity | 100,000 events | |
| Power | 12V DC / 3A | |
| Languages | Korean, English | |
| Operating Temperature | 0 ~ 60 / 32 ~ 140 | ˚C/°F |
| Operating Humidity | 5% to 80% | |
| Housing Materials | Flame retardant ABS, Poly Carbonate, PP | |
| Management SW | WEBICS ADMIN | |
| Mounting | Default wall mounting bracket | |
Dimensions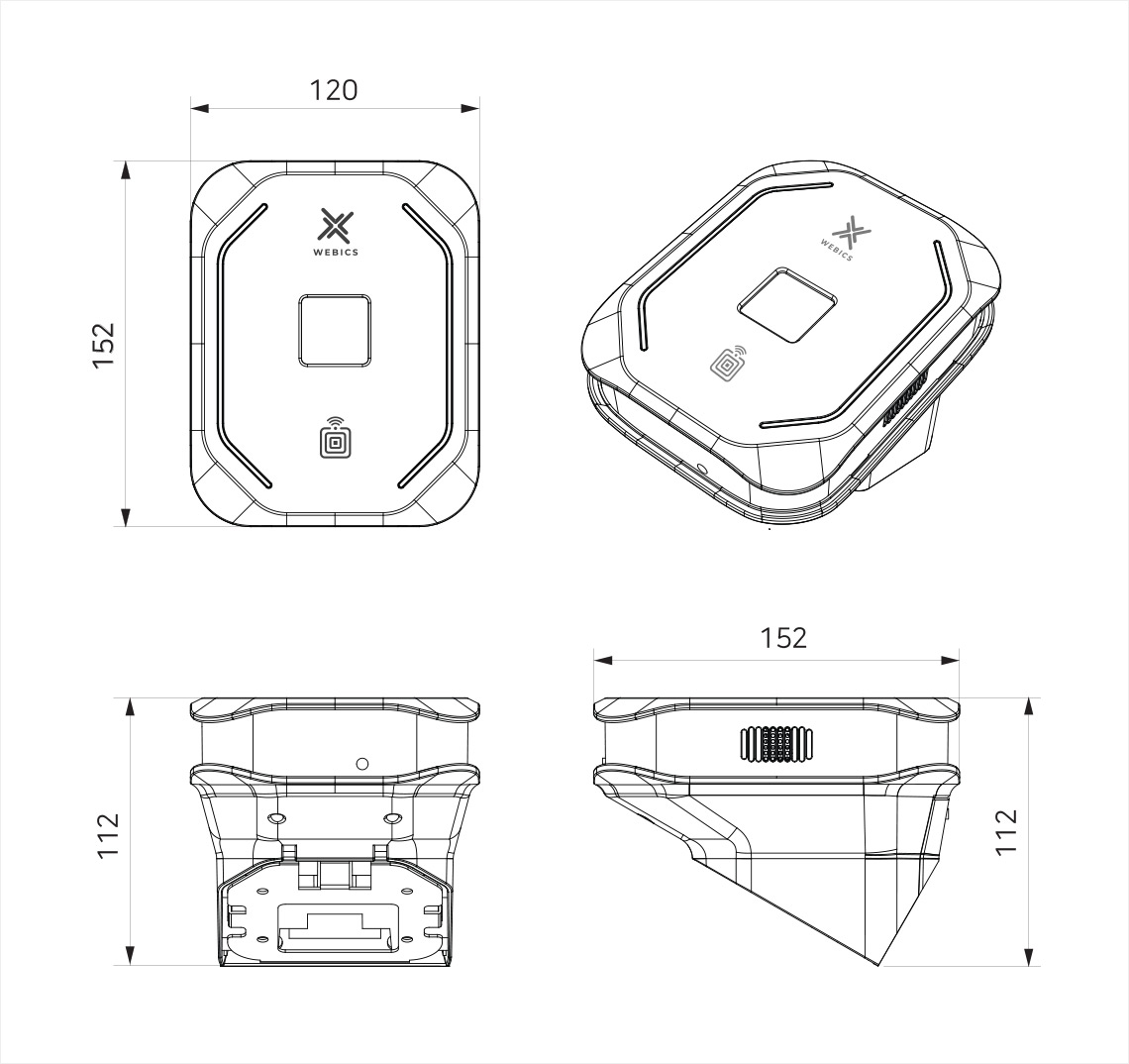 Applications
High-end markets that require the best performance and quality Markets that require the highest level of security
- Government institutions, financial institutions, medical institutions such as hospitals, research institutes, institutional facilities, and high-end commercial spaces