WEBICS Wall
Easy, Fast, Safe and Multiple Biometric control Device, WEBICS Wall
WEBICS Wall is a state-of-the-art access authentication system that can use all of palm vein, numeric keypad, RFID, and QR-Code.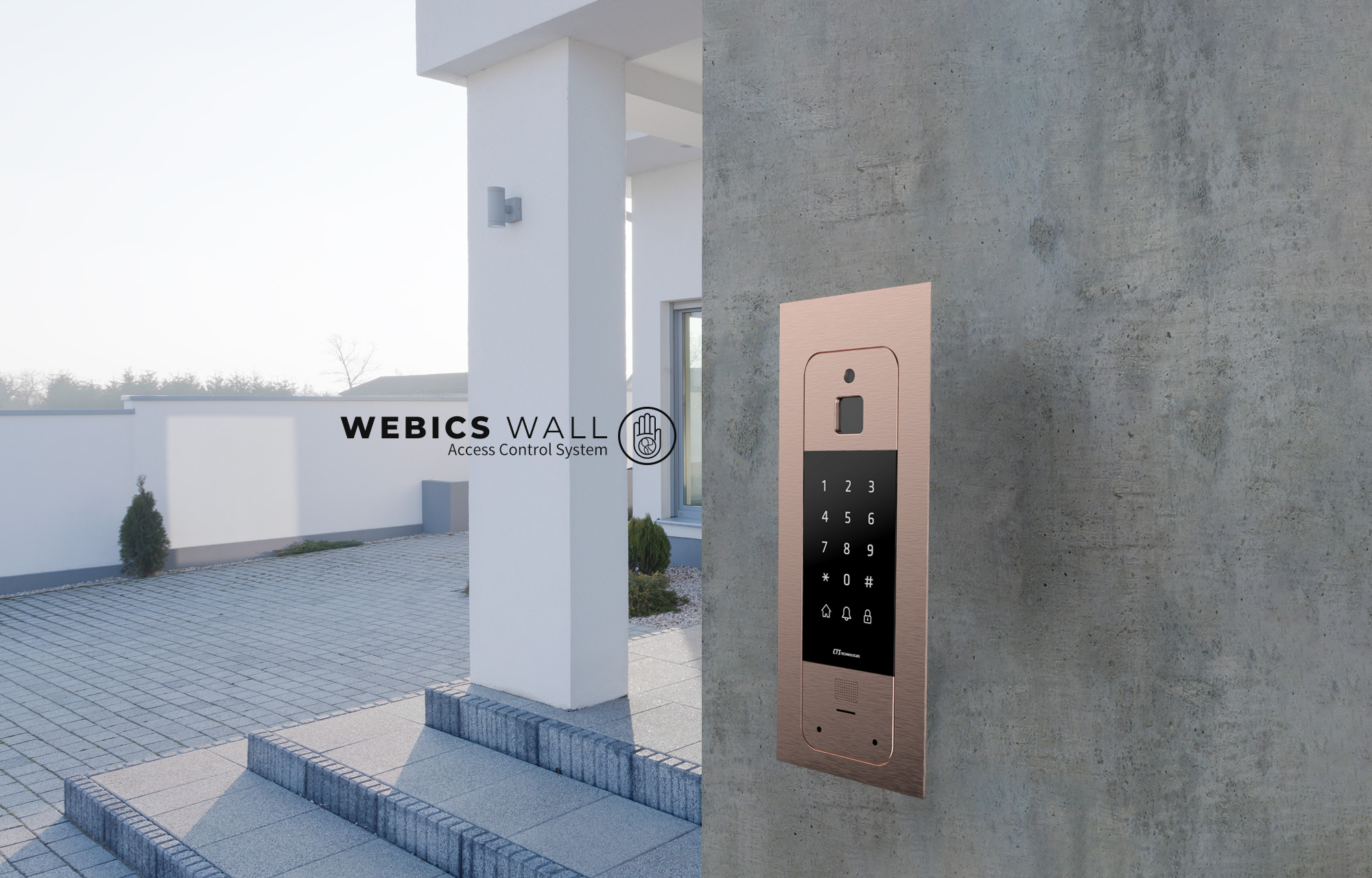 Key Features
· The highest performance security system using the palm vein, the most advanced biometric technology.
· By connecting to the existing home network system, you can conveniently use video, audio, and doorbells.
· Advanced system including keypad, user registration, user management, home network and video/interphone calls all in one touch panel.
· Fast authentication is possible within 1 second by applying HN Security's unique vein authentication algorithm.
· The best palm vein recognition technology is applied to the WEBICS security solution to minimize the misidentification rate, and users can easily use it through simple authentication (FAR:1/1,000,000)
01. Independent management system
Independent user registration and management is possible without a separate network connection.
02. Easy compatibility
It is designed to be easily compatible with the existing home network system, so it can be connected well with any product.
03. Safe and hygienic use of palm veins
Palm vein with high level of security of FAR 1/1,000,000 and almost no misidentification rate is used. Because it is 100% non-contact method, there is no risk of cross infection even when multiple users use it, and fast recognition is possible without any problems even in wet or dry palm conditions.
04. Fast palm vein authentication
Fast authentication is possible within 1 second by applying HN Security's unique vein authentication algorithm.
05. Encryption conforming to international standards
Vein data is stored using AES256, a symmetric key method established by the National Institute of Standards and Technology (NIST). Since the original vein image cannot be extracted from the stored data, it cannot be stolen even if it is leaked. Personal information protection is also applied to the highest level used by banks, etc.
06. LCD keypad application
By applying the LCD numeric keypad, the position of the number is changed randomly every time, so even if it is used frequently, it is fundamentally blocked from exposing the password due to fingerprinting. You can choose the font or design of the numbers according to your preference.
07.Application of QR-Code Recognizer
You can use QR-Code. You can conveniently manage visitor access without exposing the password you are using by granting OTQR (One time QR-Code).
08. New style door lock
Since it can be installed in the wall on the side of the door by a buried method or a stand method, it can be installed without damage to the door. As there is no damage to the door, there is no damage to the fire protection and security functions. You are free to choose the existing door or the door you want.
Key Specification
| Model Name | WEBICS Wall | Remark |
| --- | --- | --- |
| CPU | Cortex-A53 64-bit SoC 1.4GHz | |
| RAM | 1GB SDRAM | |
| Color | Black | |
| Operation Mode | Palm vein, Keypad, RFID 13.56Mhz, QR Code | |
| Biometric Recognitions | Palm Vein | |
| Recognition Distance | 35 ~ 76mm / 1.4 ~ 3.0in | |
| FAR/FRR of Algorithm | 0.00001/0.01 | |
| Capacity | 500 palms | |
| Encryption | AES 256 | |
| Built in RFID reader | RFID 13.56Mhz, ISO14443A/B, NFC | |
| Speak Out | Sound effect | |
| Dimensions | 160 (W) X 45 (D) X 320 (H) / 6.1(W) X 1.7(D) X 12.5(H) | mm/in |
| Weight | 1.17 / 2.57 | kg/lb |
| Communications | 100Mbit Ethernet, Wiegand out | |
| Input / Output | Door status in, Relay, RS485, Wiegand | |
| External Interface | USB 2.0 & HDMI(Debug) | |
| Power | 12V DC / 3A | |
| Languages | Korean, English | |
| Operating Temperature | 0 ~ 60 / 32 ~ 140 | ˚C/°F |
| Operating Humidity | 5% to 80% | |
| Housing Materials | Flame retardant ABS, Poly Carbonate, PP | |
| Management SW | WEBICS ADMIN | |
Applications
High-end markets that require the best performance and quality Markets that require the highest level of security
- Government institutions, financial institutions, medical institutions such as hospitals, research institutes, institutional facilities, and high-end commercial spaces